Overview
Differences between the lengths of the upper and/or lower legs are called leg length discrepancies (LLD). A leg length difference may simply be a mild variation between the two sides of the body. This is not unusual in the general population. For example, one study reported that 32 percent of 600 military recruits had a 1/5 inch to a 3/5 inch difference between the lengths of their legs. This is a normal variation. Greater differences may need treatment because a significant difference can affect a patient's well-being and quality of life.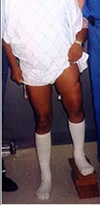 Causes
The causes of LLD are many, including a previous injury, bone infection, bone diseases (dysplasias), inflammation (arthritis) and neurologic conditions. Previously broken bones may cause LLD by healing in a shortened position, especially if the bone was broken in many pieces (comminuted) or if skin and muscle tissue around the bone were severely injured and exposed (open fracture). Broken bones in children sometimes grow faster for several years after healing, causing the injured bone to become longer. Also, a break in a child?s bone through a growth center (located near the ends of the bone) may cause slower growth, resulting in a shorter extremity. Bone infections that occur in children while they are growing may cause a significant LLD, especially during infancy. Bone diseases may cause LLD, as well; examples are neurofibromatosis, multiple hereditary exostoses and Ollier disease. Inflammation of joints during growth may cause unequal extremity length. One example is juvenile rheumatoid arthritis. Osteoarthritis, the joint degeneration that occurs in adults, very rarely causes a significant LLD.
Symptoms
If your child has one leg that is longer than the other, you may notice that he or she bends one leg. Stands on the toes of the shorter leg. Limps. The shorter leg has to be pushed upward, leading to an exaggerated up and down motion during walking. Tires easily. It takes more energy to walk with a discrepancy.
Diagnosis
A doctor will generally take a detailed medical history of both the patient and family, including asking about recent injuries or illnesses. He or she will carefully examine the patient, observing how he or she moves and stands. If necessary, an orthopedic surgeon will order X-ray, bone age determinations and computed tomography (CT) scans or magnetic resonance imaging (MRI).
Non Surgical Treatment
People with uneven leg lengths may be more prone to pain in their back, hips, and knees; uneven gait; and lower leg and foot problems. Due to its risks, surgery is typically not recommended unless the difference is greater than one inch. In cases where the difference is less than one inch, providing the same support for both feet is the most effective. This can be achieved by getting custom-fitted orthotics for both feet. Orthotics are inserts that you wear in the shoes. Your chiropractor will request to measure your feet and possibly your legs. You can step on a device that will take the measurements or you might have a plaster cast of your feet taken. Orthotics are typically made from plastic and leather, and function biomechanically with your foot. If a leg length discrepancy is not properly corrected with orthotics, your chiropractor may recommend a heel lift, also known as a shoe lift. You simply place it in the back of your shoe along with the orthotic. Typically, you will only wear the heel lift in one shoe to assist the shorter leg.
how to increase height after 18 in 1 month
Surgical Treatment
Surgical options in leg length discrepancy treatment include procedures to lengthen the shorter leg, or shorten the longer leg. Your child's physician will choose the safest and most effective method based on the aforementioned factors. No matter the surgical procedure performed, physical therapy will be required after surgery in order to stretch muscles and help support the flexibility of the surrounding joints. Surgical shortening is safer than surgical lengthening and has fewer complications. Surgical procedures to shorten one leg include removing part of a bone, called a bone resection. They can also include epiphysiodesis or epiphyseal stapling, where the growth plate in a bone is tethered or stapled. This slows the rate of growth in the surgical leg.